Today, Im bringing you some absolutely delicious potato cheese rolls, friends. My friends at the Idaho Potato Commission are sponsoring this post, so I added some of their Idahoan Mashed Potatoes right into the dough to make some of the tastiest cheese buns ever.

This is a very easy roll recipe, and since yeast loves potatoes so much, the rolls rise quickly and have a ton of flavor. Lets get to it, shall we?

You may also enjoy my potato sandwich bread and soft sandwich rolls, both of which are made with Idaho potatoes.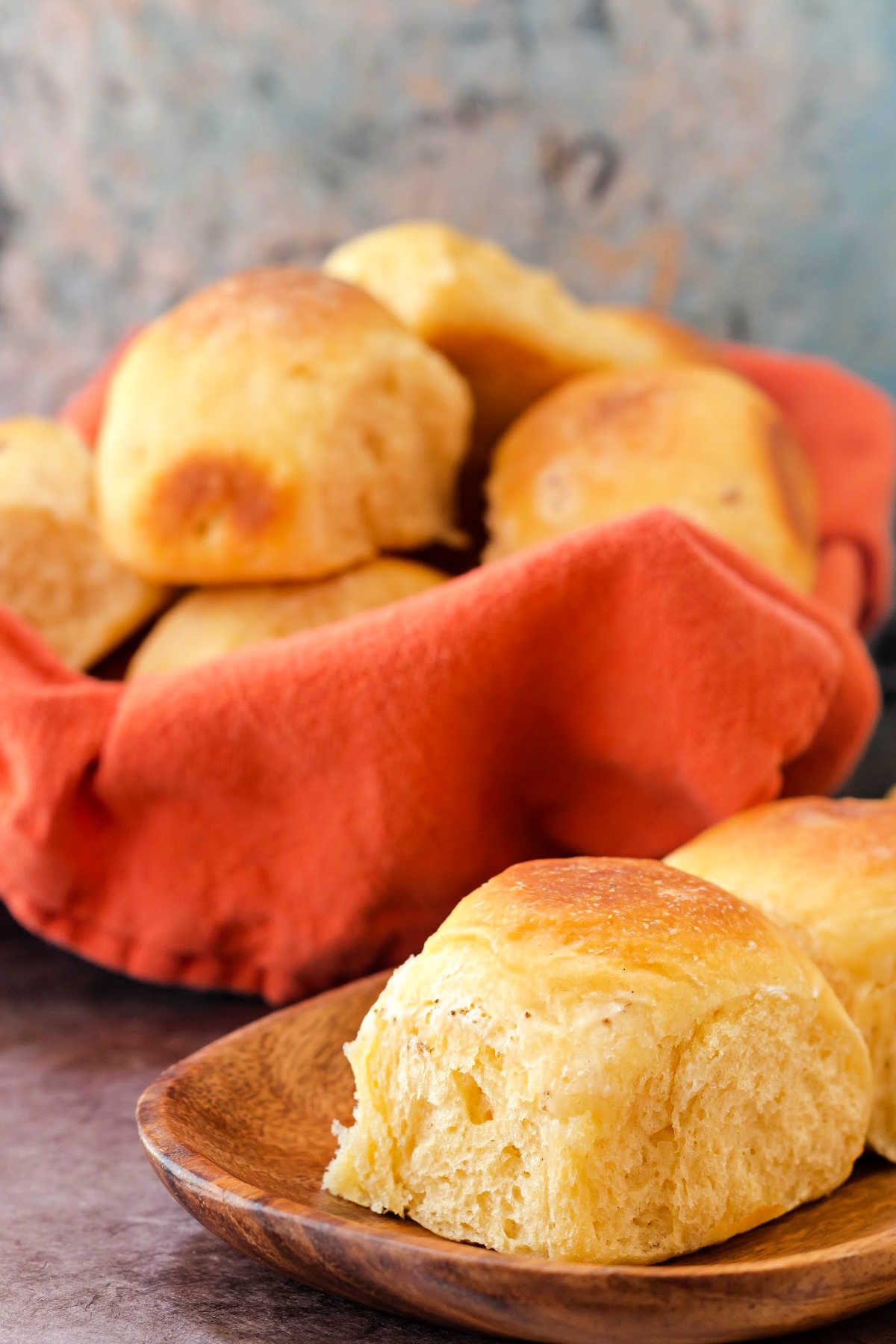 Idahoan Mashed Potatoes
I am generally the girl who wants to make everything from scratch, including my mashed potatoes. Ive made other dinner rolls using Idaho Russet potatoes, cooked and mashed, in the recipe. You can see how that works in my garlic Parmesan dinner roll recipe and garlic chive potato rolls.
This is the first time Ive developed a recipe using instant mashed potatoes, and let me tell you, it wont be the last.
One of the cool things about the different flavors is that you can use any flavor to make your rolls. So if you use four cheese kind, you can add additional cheese and maybe some cayenne to make extra cheesy rolls.
And if you make these rolls with the Bacon and Cheddar Chipotle kind, you can sub in pepper jack for the cheddar and add a touch of chipotle powder.
Make the rolls your own by switching up the flavor of Idahoan mashed potatoes you use. Easy!
The other night, I cooked up a packet of mashed potatoesseriously the first time Ive ever made, and I am here to tell you that when they say youll get perfect homemade taste in 4 minutes? They are not kidding.
The only change I made to the directions on the packet was to use half whole milk and half water rather than all water. Thats it.
And I am a convert. I think I will probably always love old-fashioned hand mashed potatoes the best, but Im a new fan of these guys thanks to the convenience, the flavor, and the quality.
Idahoan uses a proprietary dehydration process that makes the finished mashed potatoes have more of the taste and texture of old-fashioned mashed potatoes. And they use my favorite potato, too: Idaho Burbank Russets. And theyre ready in four minutes! Everybody wins!
FUN FACT: Idahoan Loaded Baked Potato Mashed Potatoes was one of the Idahoan mashed potatoes products that was voted Product of the Year for 2019 in the Consumer Survey of Product Innovation. Well deserved!
How to Make Easy Cheese Rolls with Idahoan Mashed Potatoes
This section contains affiliate links. For more information, please see my disclosure policy.
This is a very easy dough to make, and your mixer will do all the work. Since its not a very large batch of dough, youll be fine with a 4.5 qt or 5 qt mixer. For reference, I have a 6 qt mixer and you can see how much room is left in the bowl.
Ingredients Youll Need
Any flavor of Idahoan Mashed Potatoes. 2 caveats here: you want the Russet kind, not the Red-Skinned kind. And Id make sure the flavor already has cheese in it just to up the cheese factor. Otherwise, the choice is yours
whole milk
butter
salt
egg
sharp cheddar cheese (or whatever cheese will go best with your flavor of mashed potatoes)
all purpose flour (I use King Arthur)
How To Make Your Potato Cheese Buns
Pour the Idahoan potatoes into your mixer bowl
Add hot milk and melted butter and stir
Add egg and salt and whisk well
Pour the grated cheese on top of the mashed potatoes followed by the flour and then the yeast
Mix and knead until dough is soft, shiny, and stretchy
Let rise, punch down, shape the rolls
Let the rolls rise again
Bake
Brush with butter
Let cool to warm
Put in face
Do You Have to Rehydrate the Potatoes Before Making the Cheese Rolls?
Yes, but you rehydrate them as part of the process of making the bread.
Then, all you have to do is add the flour and yeast and mix and knead with the dough hook. Its very easy, and you dont have to plan ahead!
Shaping Your Rolls
This dough is really lovely to work with. Its soft and stretchy, but not really sticky.
Once your dough rises the first time, press out all the gases, turn it out, and then divide it into 18 pieces. I actually use my scale to weigh the entire amount of dough and then divide by 18 (or the number of rolls I want, depending on how large I want them to be).
My dough turned out to weigh just over 43 oz, so I scaled each of my rolls at about 2.4 oz which is a really nice size for a dinner roll.
If you scale your dough at 4 oz and place them farther apart on baking sheets, you can make burger buns with this recipe. Or you can make mini rolls by scaling each at about 1.5 oz.
Theyre your rolls, so you make them how you want them!
Heres what the rolls will look like at different stages so youll know when theyre ready to bake and ready to come out of the oven:
Youll notice in the first photo that the rolls touch each other in each row, but the columns dont touch.
Then they spend about 45 minutes, covered, in the cozy microwave.
I make it nice and cozy in there by boiling a mug of water for 3 minutes, then moving itcarefully!to the side and sliding in the tray of rolls. Once I close the oven door, it stays nice and moist and warm for quite some time.
The third photo shows the buns after theyve risen. See how they now all look more oval than round? The columns still might not be quite touching, but once they look like this, youre good to go.
The last photo shows how much they continue to rise in the oven. No space at all between any of the rolls, making them truly pull apart rolls. Nice!
I will note that these cheese buns dont brown quite as deeply as some other breads and rolls Ive made, and thats because I didnt add any sugar to the dough.
Id normally add sugar to give the yeast something to nibble on, but yeast really loves potatoes and is quite happy to nosh on that without the need for extra sugar.
If you want slightly browner rolls, feel free to add 2 Tablespoons of sugar to the dough along with the potatoes. Otherwise, youre (mostly) done.
As a finishing touch, I brush the tops of the rolls with butter right when they come out of the oven. The little specks you see on them are little crystals of smoked salt which I added just because I could. You can if you want to as well, but it is completely optional.
What To Serve with Your Homemade Rolls
Honestly, these guys are really good all on their own. But I wouldnt say no to serving them alongside some chili for dunking.
And theyd be an especially nice accompaniment to tomato soup, too.
And, if you want to revel in carby goodness, serve them with my creamy pasta sauce. Now thats a match made in heaven!
Okay, Lets Bake Some Cheesy Rolls!
A Note About Measurements
NOTE: Most of my recipes are written by weight and not volume, even the liquids.

Even though I try to provide you with volume measurements as well, I encourage you to buy a kitchen scale for ease of measuring, accuracy, and consistency.
This is the scale I use, love, and recommend:
I really hope you love this potato cheese rolls recipe, you guys! If you make some, please share a photo with me, either in the PCO Facebook Group or on instagram by tagging @onlinepastrychef and using hashtag #pcorecipe.
Oh, and let me know what flavor Idahoan Mashed Potatoes you use in your buns!
Thanks, and enjoy!
Easy Cheese Rolls Recipe
Additional Time:
2 hours
15 minutes
These easy cheese rolls are made light and flavorful with the addition of 1/2 cup of Idahoan Mashed Potatoes. I used the Loaded Baked Potato flavor, but you can use any flavor you'd like. Cheese buns are very easy to make, rise relatively quickly (so they aren't a huge time commitment), and your family will absolutely love them. And thanks to the potatoes, they stay fresh for several days. Nice!
Ingredients
13.5 oz (about 1 2/3 cup) whole milk
2 oz (1/2 stick) unsalted butter
2.5 oz (about cup) Idahoan Loaded Baked Mashed Potatoes (or your favorite flavor)
1 large egg
1 teaspoon salt
4 oz sharp cheddar cheese, shredded (for best results, shred your own cheese)
20 oz (about 4-4 cups) all purpose flour (I used King Arthur)
2 teaspoons instant yeast
To Finish
1.5 oz (3 Tablespoons) unsalted butter, melted
Instructions
Put the milk and butter in a microwave safe measuring cup and heat until the butter has
melted and the milk is hot but not boiling, about 1 minute. Stir well to make sure all the
butter melts.
Pour the dry Idahoan Mashed Potatoes into the bowl of your stand mixer fitted with the
dough hook.
Add the milk/butter mixture, the egg, and the salt.
Whisk or stir well to combine. Mixture will be very soupy.
Add the shredded cheese to the bowl and top with all the flour.
Spoon the yeast on top.
Mix on low speed until a shaggy dough forms.

Kneading, Rising, and Shaping

Increase speed to medium and knead for 7-8 minutes, until the dough is smooth and
shiny and very extensible.
Shape the dough into a ball and place it back into the mixer bowl.
Spray the exposed surface of the dough with pan spray or brush with neutral oil.
Cover the dough with a lint-free kitchen towel and let rise in a warm place for 1 to 1
hours until doubled in bulk.
Press the gases out of the dough and then turn it out onto a clean work surface.
Portion the dough into 18 equal balls. If you have a scale, they should each weigh
between 2.4-2.5 oz apiece.
Press each scaled piece of dough into a disc and then gather up all the edges into the
center, making a small ball. Place the ball, smooth side up, on the work surface and cup your
hands around it, pushing it around in small circles on the counter and using that friction
to tighten up the outside and make them nice and smooth. This will help the crumb to be more uniform and help them to rise more evenly.
Place the shaped rolls into a sprayed 9x 13 pan in 3 rows of 6. The rolls in each row will
touch but each column of rolls may not. Thats okay.
Spray the rolls with pan spray, cover with a lint-free kitchen towel, and let rise in a warm
place until almost doubled in bulk again, about 45 minutes to an hour. After about 30
minutes, preheat the oven to 350F.
Bake the rolls for 25-35 minutes, until the rolls are lightly golden brown on the tops and
the internal temperature reaches 195-200F. Since there is no added sugar in this recipe, the rolls will not brown as deeply as rolls with additional sugars in the dough.

To Finish:

Remove the pan of rolls from the oven and immediately brush the tops with the melted
butter.
Allow the rolls to cool for 10 minutes in the pan and then use a spatula to help you slide
them out onto a cooling rack to cool completely.
Reheat to serve, either wrapped in foil in the oven for 10-15 minutes at 350F or for a few
seconds in the microwave.
Store rolls at room temperature, covered, for 3 days.
For longer storage, place in zip top freezer bags and press out as much air as you can
before sealing and freezing.

Notes
To Spread the Work Over Two Days
You can break up the work over 2 days if you like. After you knead the dough and then shape it into a smooth ball, you can put it in the fridge overnight.
The next day, scale out the dough into 18 rolls, pan them up and let them rise until almost doubled. It will most likely take a bit longer since they'll be cold from the fridge, so plan on maybe 2 hours before baking.
You could also let the dough rise the first time, press out the gases, shape and pan the rolls and then refrigerate them, taking them out of the fridge about an hour before baking.
To Store the Rolls
Thanks to the potatoes, the rolls will stay nice and soft at room temperature for 3 days or so. I keep them in a plastic
Recommended Products
As an Amazon Associate and member of other affiliate programs, I earn from qualifying purchases.
Nutrition Information
Yield

18
Serving Size

1
Amount Per Serving
Calories

206
Total Fat

8.2g
Saturated Fat

4.7g
Trans Fat

0g
Cholesterol

31mg
Sodium

212mg
Carbohydrates

26.3g
Fiber

0.9g
Sugar

1.3g
Protein

6.3g
The stated nutritional information is provided as a courtesy. It is calculated through third party software and is intended as a guideline only.
And there you have it friends. Really good and easy to make potato cheese rolls made with instant mashed potatoes. Enjoy!
Thanks for spending some time with me today, and thank you to the Idaho Potato Commission for sponsoring my work.
Have a lovely day.
The post Potato Cheese Rolls Recipe with Idahoan Mashed Potatoes appeared first on Pastry Chef Online.