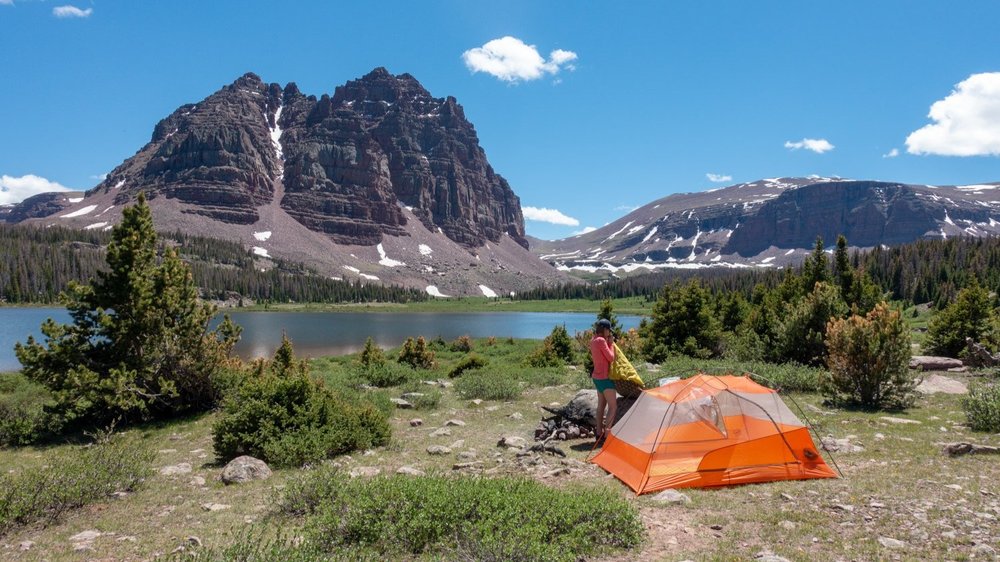 The snow is melting and the parks are opening - it's time to get outside! We're just as stoked as you are for summer hiking and backpacking season, and REI has you covered with some great deals on gear to get you on the trail. REI's 4th of July sale runs from June 23rd - July 4th. 
REI Members have access to some exclusive sale items, so if you haven't joined yet - now is the time. We scoured the deals and narrowed this list down to the gear we're most excited about.
Not a Member yet?
Oh yeah, if you're not an REI member, don't fret! You can pick up a lifetime membership for $30 and still get to use the 20% off coupon. So, your lifetime membership will pretty much pay for itself with one big purchase. Here are some of the reasons all of us here at CleverHiker have been REI members for years:
Knowledgeable and friendly staff - We always have an awesome experience with the sales and customer service staff. They're friendly and helpful, and they really know their stuff!

Save money - There are so many benefits to membership, but some of our favorites are access to 20% off coupons a few times a year, 10% dividend back on full-price purchases, access to the used gear Garage Sale, and discounts on REI Adventures and in-store classes.

REI brand products are a great value - We generally find that REI brand products strike a great balance between quality and cost. The Magma line of sleeping bags and the Half Dome line of tents are some of our favorite products from their wide range of offerings.

REI has an excellent return policy - Customer service reigns supreme here. REI gives you 365 days to return or exchange items and we love the ability to buy online and return in store.

REI is getting into the ultralight game - We're pretty stoked to see REI jumping into the ultralight arena. They're now stocking their shelves with UL retailers, such as Hyperlite Mountain Gear, as well as upgrading many of their REI brand product lines to focus on fast and light gear.
---
Tents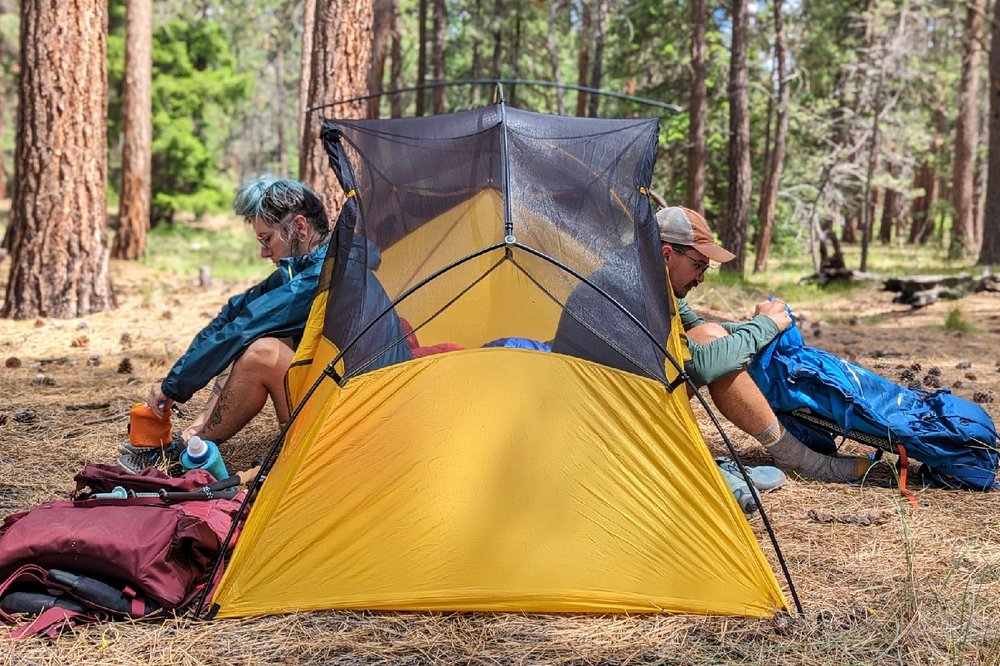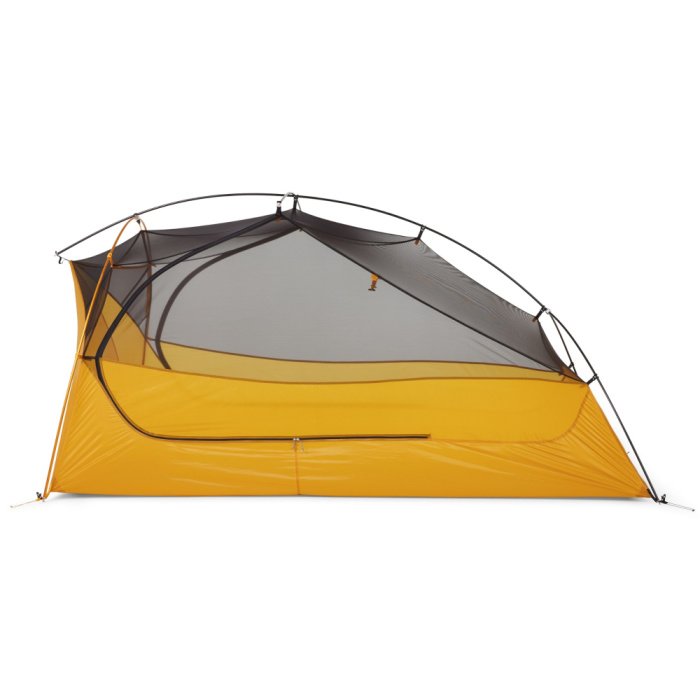 REI has made some of our favorite tents over the years, but few have been as impressive as the Flash 2. This tent has a weight and interior volume that rival some of the most popular backpacking tents of all time, but it costs far less than anything in its class. With its unique pole architecture, the Flash 2 manages to feel more spacious than tents with the exact same dimensions. See how this tent stacks up against the competition on our list of the Best Backpacking Tents.
---
We love the REI Skyward 4 tent for its high-quality tent poles/fabrics, spacious interior, and ease of setup. It has near-vertical walls and a 6.5 foot peak height, so you can stand and move around freely. The vestibule off the front is handy, and we like that there's an awning over the door for drip-free entry. The Skyward is a well-rounded tent with a sweet balance of simplicity and spaciousness which made it our number one pick on our Best Camping Tents list.
---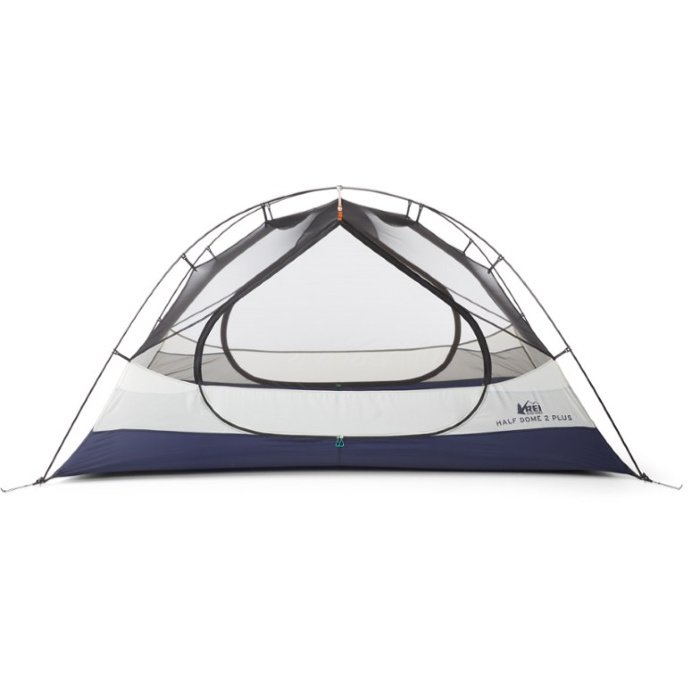 The REI Half Dome series of tents are a good value for those wanting a tent that's practical for both backpacking and car camping. These tents provide a good balance of durability, interior space, and affordability, and their freestanding design makes them easy to set up. Our favorite size for backpacking is the 2 Plus, and the 3 Plus is more comfortable and spacious for car camping. The Half Dome tents are featured on both our Best Camping Tents and Best Backpacking Tents lists.
---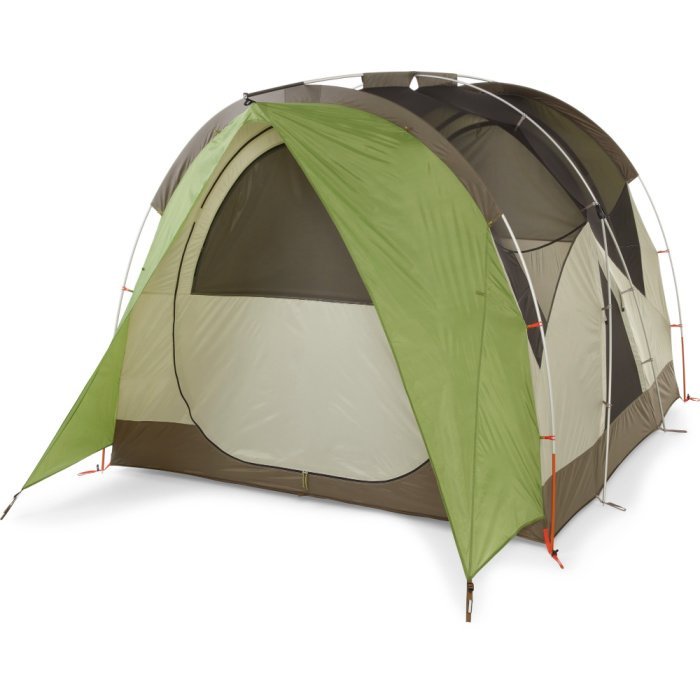 REI's Wonderland tents come in a few sizes, but our top pick is the Wonderland 4. This tent is a redesign of the popular Kingdom. It still features the same high ceiling, giant doors, and convenient storage pockets that made the Kingdom so well-loved. This is a can't-miss deal if you're in the market for a new camping tent. See how it stacks up against the competition on our Best Camping Tents list.
---
Eureka's Space Camp 4 is a welcoming shelter with nearly vertical walls and a versatile rainfly. There are two generous vestibules to protect your gear when bad weather hits and multiple vents to promote airflow. For taller campers, the Space Camp 6P has a peak height of 6'4" for more headroom. The Space Camp is among the highest-quality budget options on our Best Camping Tents list.
---
The affordable REI Trail Hut 2 is an excellent tent for hikers on a tight budget or those wanting a crossover tent for car camping and backpacking. It's quick and easy to pitch, made with durable materials, and the weight/bulk aren't too bad when split between two hikers. If you're looking to go as affordable as possible, the REI Trailmade 2 costs less and is a bit lighter. But we ultimately prefer the Trail Hut for its larger interior space. Learn more about these tents on our list of the Best Backpacking Tents.
---
Footwear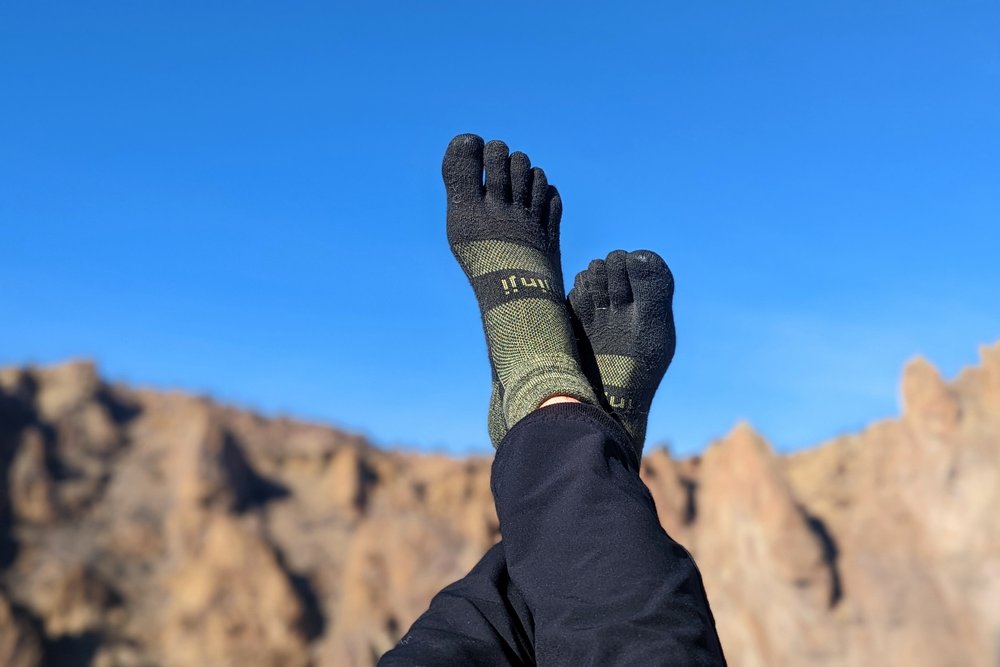 The La Sportiva Bushido II (men's / women's) is a burly trail runner with awesome traction for tackling technical mountain trails. One of the Bushido's greatest assets is its durability - the mesh zones are reinforced with a ripstop overlay, and they feature a stout rubber toe cap to protect against rocks. Learn more about the Bushidos on our lists of the Best Trail Running Shoes for Men and Women.
---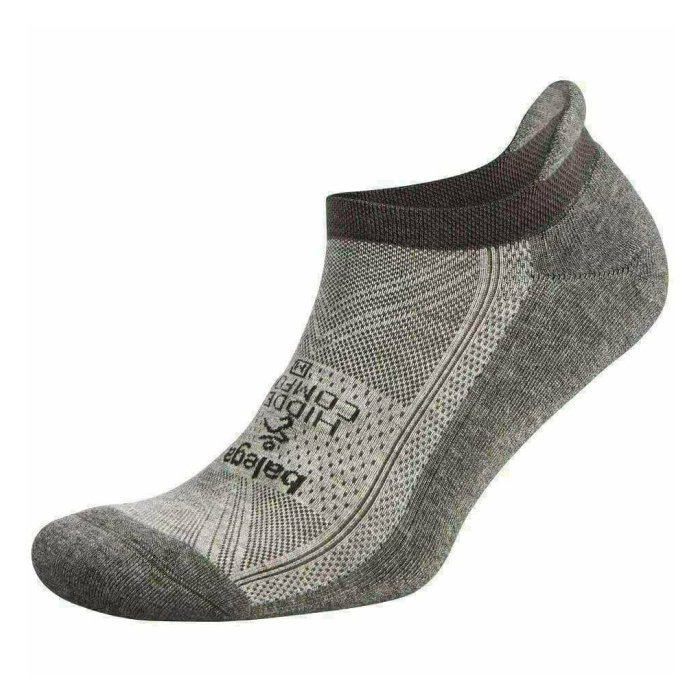 Balega Hidden Comfort Socks are simple, lightly padded, and comfortable with cushy tabs at the ankle that effectively keep them from sliding down. The plush padding across the entire sole makes them a bit warmer and less breathable underfoot than some, but they're an excellent, affordable choice for those looking for comfy low-cut socks for everyday use. See how they compare to other socks on our list of the Best Hiking Socks.
---
Who doesn't love a good toe sock? Injinji's Trail Midweight Mini Crews (unisex / women's) are some of the most popular socks on the market because they're affordable, comfortable, highly breathable, and excellent for reducing friction between the toes. Since each toe is wrapped in wicking fabric, we find that they do a very good job of keeping our feet dry on the trail too. All this helps cut down on blisters, and we can all get behind that. Head over to our Best Hiking Socks list to learn more about our favorite Injinji socks.
---
Sleep System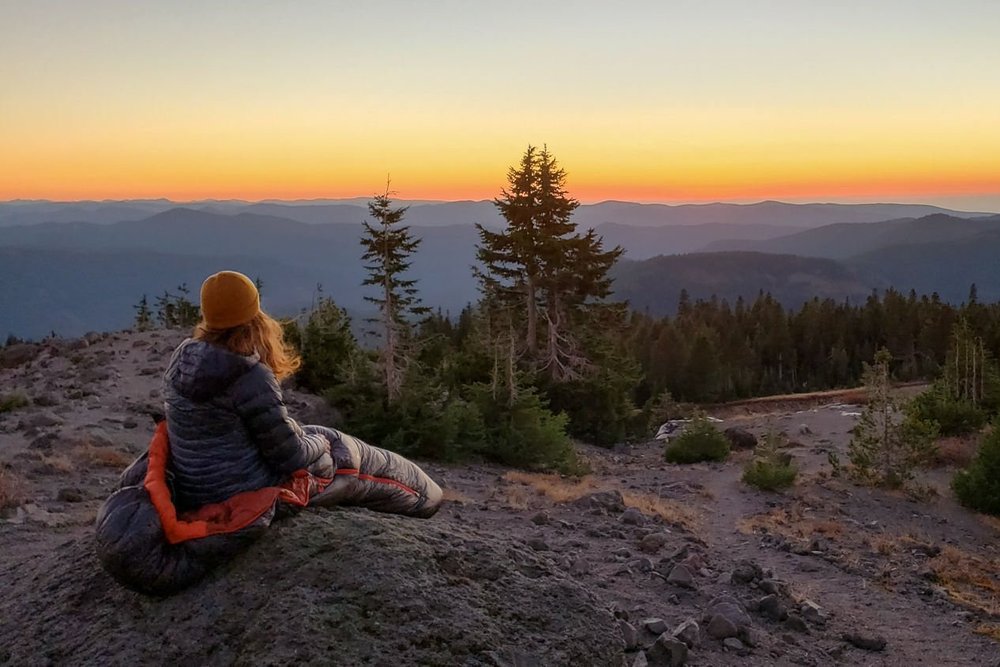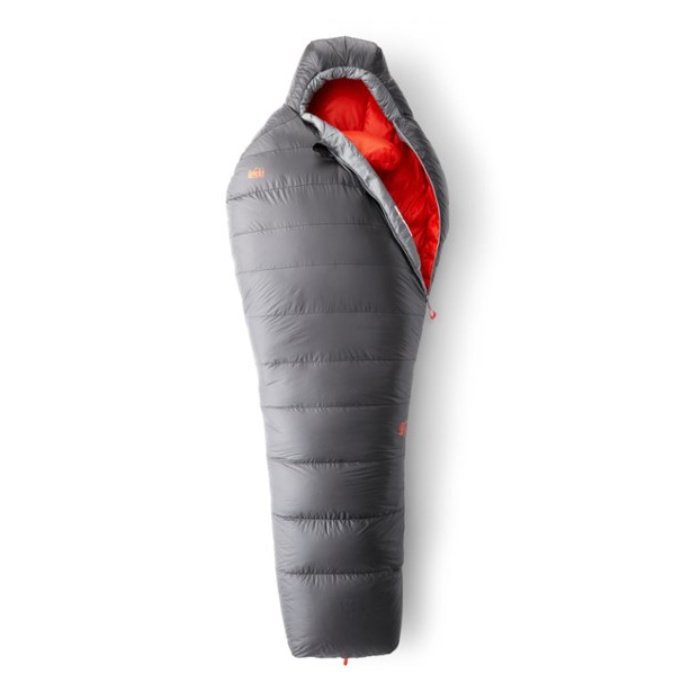 The REI Magma 15 / Magma 30 (women's Magma 15 / 30) sleeping bags have an unrivaled combination of weight, warmth, and cost. If you want one sleeping bag that will work for most of  the year, the Magma 15 is an excellent choice. If most of your backpacking trips are during summer or you're a warm sleeper, the Magma 30 is perfect for keeping pack weight to a minimum. The Magma 15 and 30 are our top picks on our Best Backpacking Sleeping Bags list.
---
The REI Magma Quilt 30 is one of our go-to sleep sacks for trips where nighttime temperatures stay in the 40s or above. This pared-down design will keep your summer base weight as low as possible, and it compresses down small to leave room in your pack for other luxuries. Its combination of weight, warmth, and cost makes the Magma one of our favorite quilts of all time, and it ranks highly on our Best Sleeping Bags and Best Backpacking Quilts lists.
---
The REI Camp Dreamer XL is an impressively thick, comfy, and easy to use camping mattress at an excellent price point. It makes sleeping outdoors feel lavish, while still being relatively lightweight and portable. For couples and those who prefer to sleep like a starfish, the Camp Dreamer also comes in a Double Size. Because it's similar in quality to many high-end camping mattresses but a lot more affordable, we named it the best value mattress on our Best Camping Mattress list.
---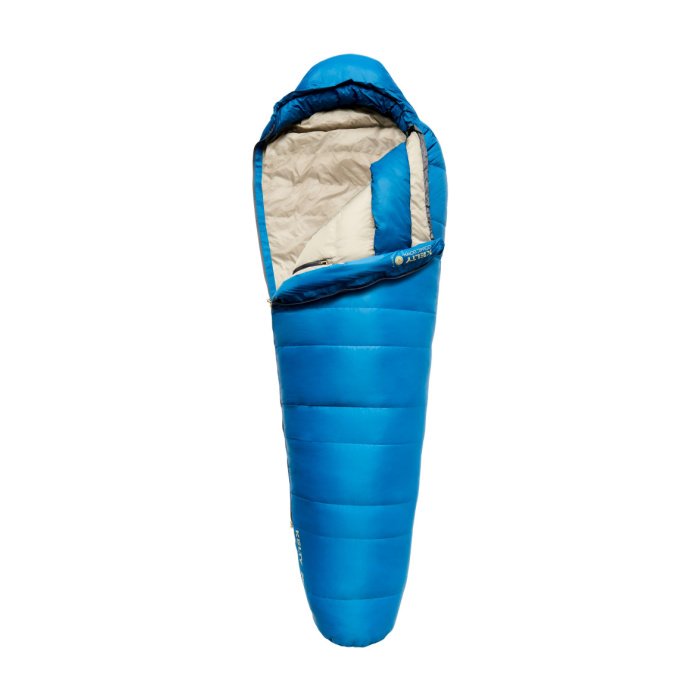 The Kelty Cosmic Down 20 (men's / women's) is a great budget buy for beginners, campers, and those who aren't as concerned with weight and bulk. Keep in mind, you get what you pay for, so don't expect the same quality out of the Cosmic as a high-end down sleeping bag, but the Cosmic is fully functional, very comfortable, and is sold at a price that's tough to beat. The Cosmic Down can be found on our list of the Best Backpacking Sleeping Bags.
---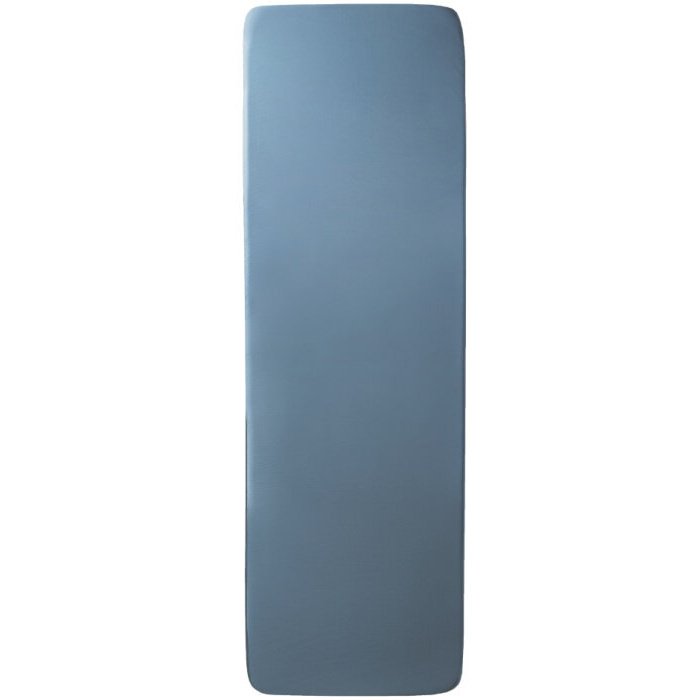 Everything about the HEST Sleep System is hands-down one of the most luxurious camping mattresses we've ever slept on. The inflatable base is really durable and creates a smooth, bump-free platform, while the memory foam topper is soft and warm. The HEST Sleep System is expensive, but it's well worth the money for extended, multi-night trips close to your vehicle. We recommend the wide version as the regular size feels a bit too narrow. See how the HEST compares on our Best Camping Mattresses list.
---
If you're looking for a way to get more relaxation and comfort to your camping or travel endeavors, check out the HEST Camp Pillow. It brings the comfort of home in a compact package that's easy to transport and keep clean. It's nearly full-size and the shredded memory foam fill provides excellent support that doesn't flatten out. The regular size is plenty big for our needs, but an even larger Standard Pillow is also available. Get all the details on our Best Camping Pillows list.
---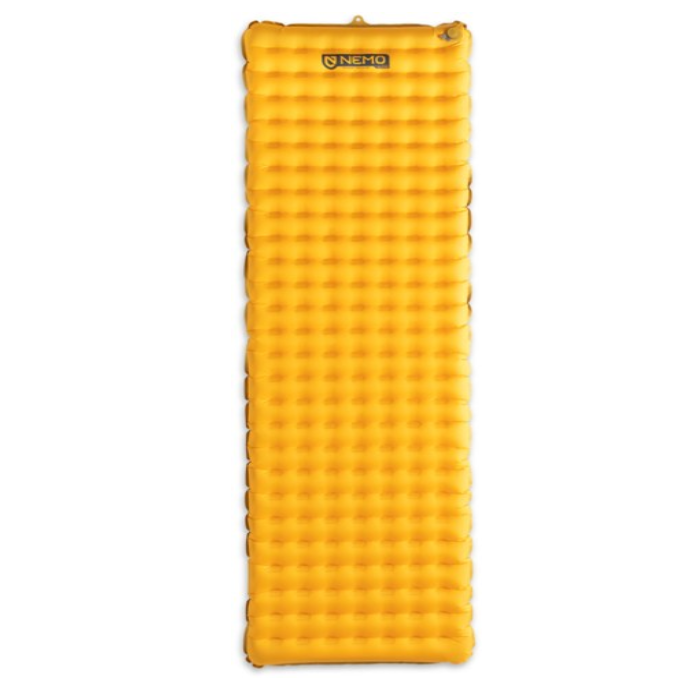 The NEMO Tensor Insulated Pad is one of our long-time favorite sleeping pads because it's quieter than other pads and it's exceptionally comfortable. The Tensor also comes with one of the best pump sacks on the market, which makes inflation fast and easy. This pad comes in several shape and size options, including mummy, rectangular, and the elusive regular/wide model, and it ranks highly on our Best Sleeping Pads list.
---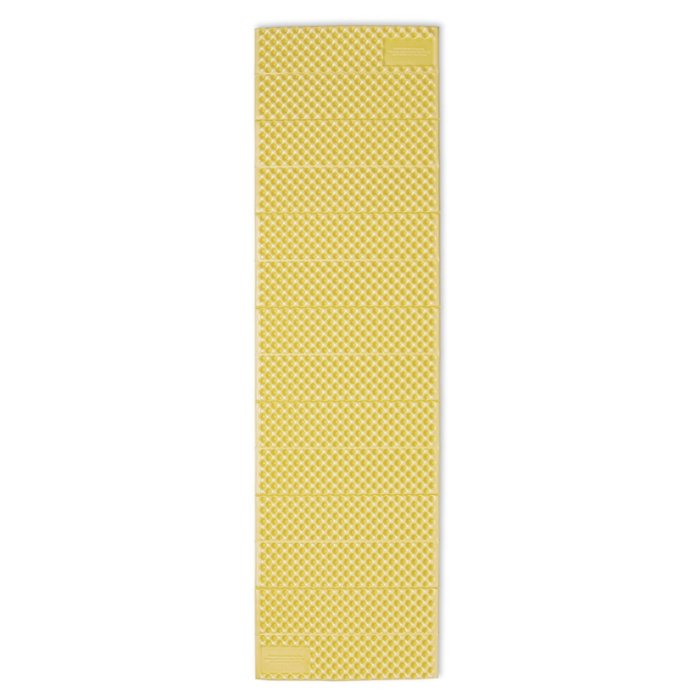 For the ultralight/budget backpacker who's hard on gear and doesn't want the possibility of a ruptured air pad, the Therm-a-Rest ZLite Sol is a great option and got an Honorable Mention on our Best Sleeping Pads list. In addition to the ZLite being nearly indestructible, we also love that it can double as a seat when taking a break on hiking trips so you don't have to sit in the dirt or on wet surfaces.
---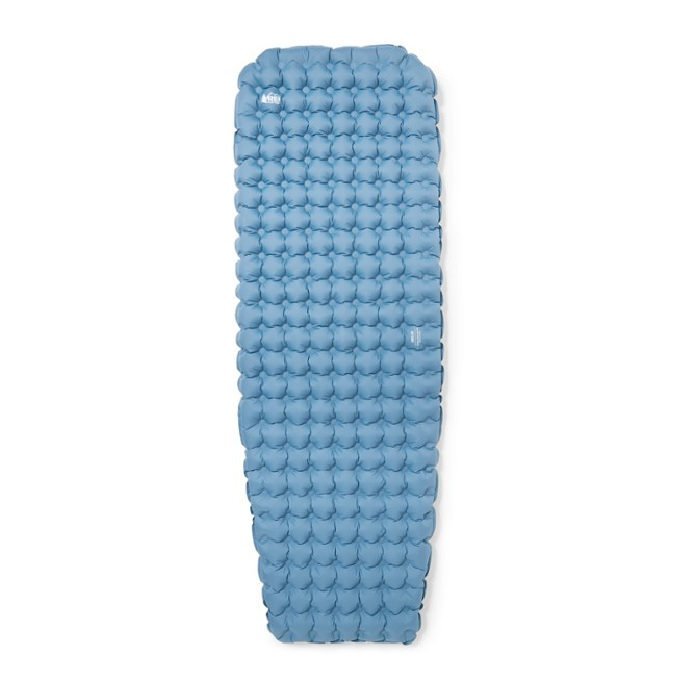 REI's Helix Insulated Air features the highest R-value of any pad in its price range, so it's an excellent value for cold sleepers on a tight budget. At 3 inches thick, the Helix is very cushy and comfortable. It's a bit heavier than some of our other favorite backpacking sleeping pads, but we think the extra warmth is worth the weight if you tend to get cold at night. See how the Helix stacks up against other top sleeping pads on our list of the Best Backpacking Sleeping Pads
---
NEMO makes some of the most luxurious sleeping bags around. Their signature Thermo Gills make it easy to regulate your temperature, and the spoon shape is ideal for side sleepers. If you're looking for a comfortable sleeping bag with a lot of space, the NEMO Disco 15 is a great option. NEMO also makes the Disco 30 for those who do most of  their camping in summer. Both make our lists of the Best Backpacking Sleeping Bags and Best Camping Sleeping Bags for their roomy comfort.
---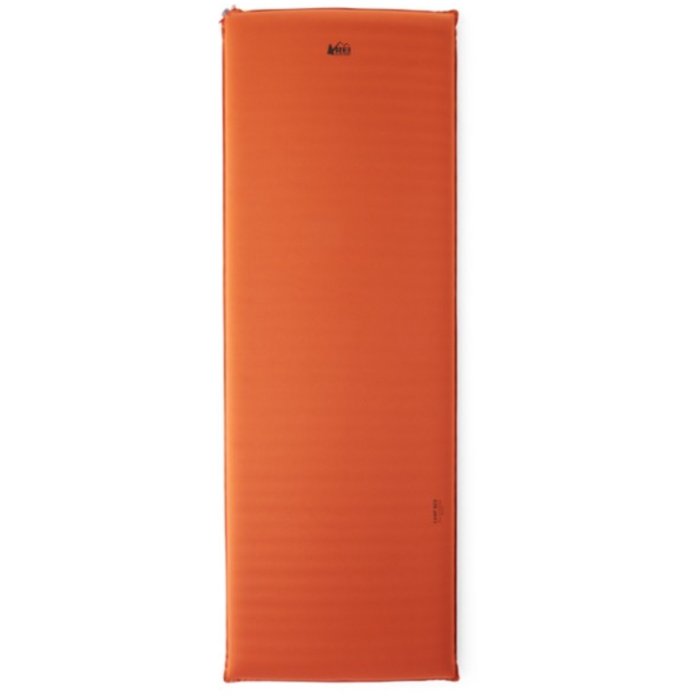 REI's Camp Bed is already one of the best deals on a car camping pad in the whole store, and now at 50% off it's truly a steal. The Camp Bed is cushy, quick and easy to inflate/deflate, and is much more compact when stored than many other car camping pads, so it won't take up as much real estate in your garage or gear closet. The Camp Bed is offered in regular and XL - we prefer the XL size since the extra width is comfier for our arms. Learn more about the REI Camp Bed on our Best Camping Mattresses list. 
---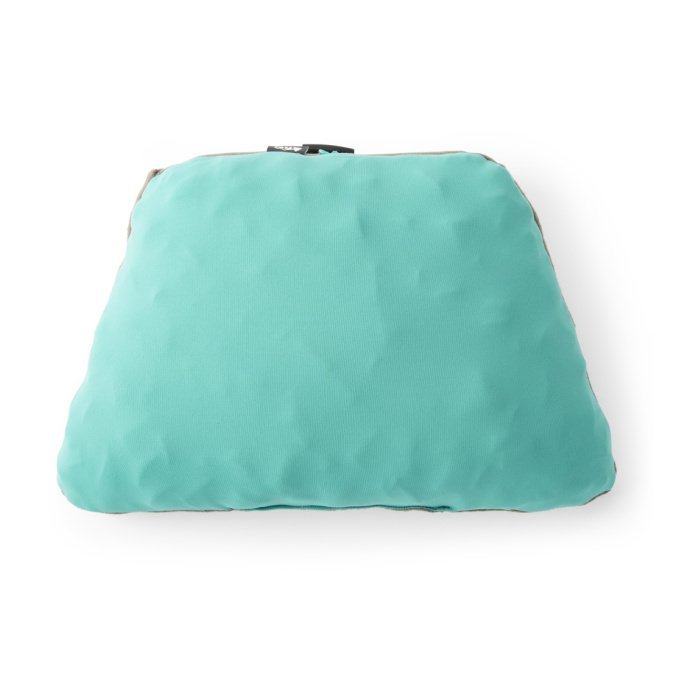 The REI Trailmade is an excellent and super affordable option that works for just about every kind of trip from travel to backpacking. The foam filling is comfier than an air pillow, and we love that you get to choose between the cozy fleece or the cool polyester side depending on the conditions. Plus, the Trailmade only weighs 5.25 oz., so it's totally backpacking-worthy if comfort is a priority. Learn more on our Best Camping Pillows list.
---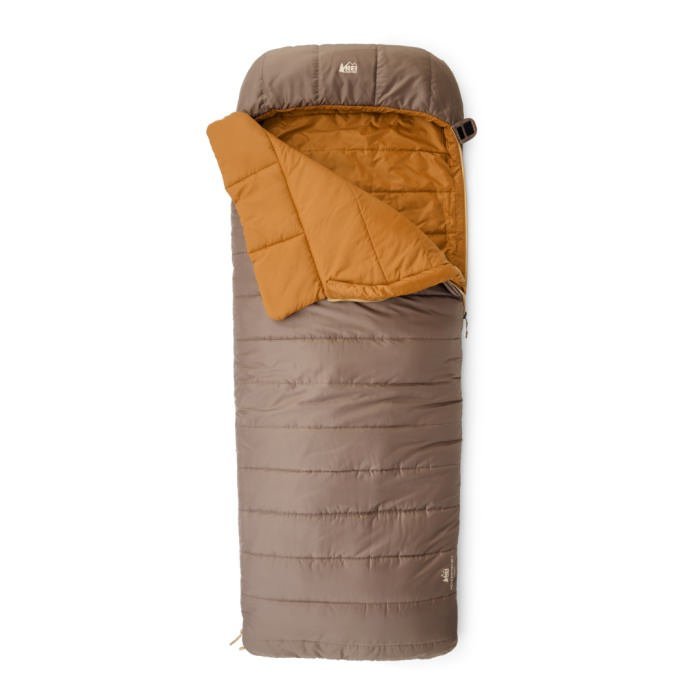 The REI Siesta 20 (also available as a two-person bag) is one of our go-to sleeping bags for car camping because it's roomy for sprawling, durable, and comes in at a great value price. The rectangular hood adds extra warmth on chilly nights and holds a full-size bed pillow securely in place. The Siesta is our top pick on our Best Camping Sleeping Bags list.
---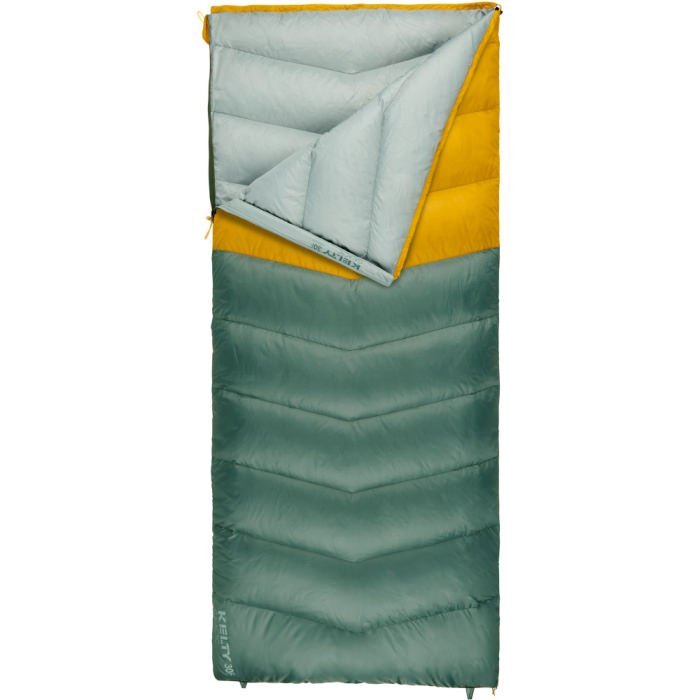 Down bags are typically more expensive than synthetic, and they tend to only come in a mummy shape that doesn't allow you to stretch out as much. This is where the down-filled rectangular Kelty Galactic 30 shines! It's priced similarly to many of the high-quality synthetic bags on the market, and the rectangle shape offers plenty of room to sprawl. It also packs down small and provides impressive warmth for how lightweight it is. The Kelty Galactic 30 is near the top of our Best Camping Sleeping Bags list.
---
The Marmot Trestles Elite Eco 20 (men's / women's) is our favorite synthetic sleeping bag from our list of the Best Backpacking Sleeping Bags. The Trestles has some surprisingly cool features for how little it costs, like a blanket fold quarter zipper, internal stash pocket, and included compression sack. Synthetic bags used to be much heavier and bulkier than down bags, but that's not so much the case anymore. The Trestles packs down decently small and is pretty light despite its recycled synthetic fill.
---
Camp Kitchen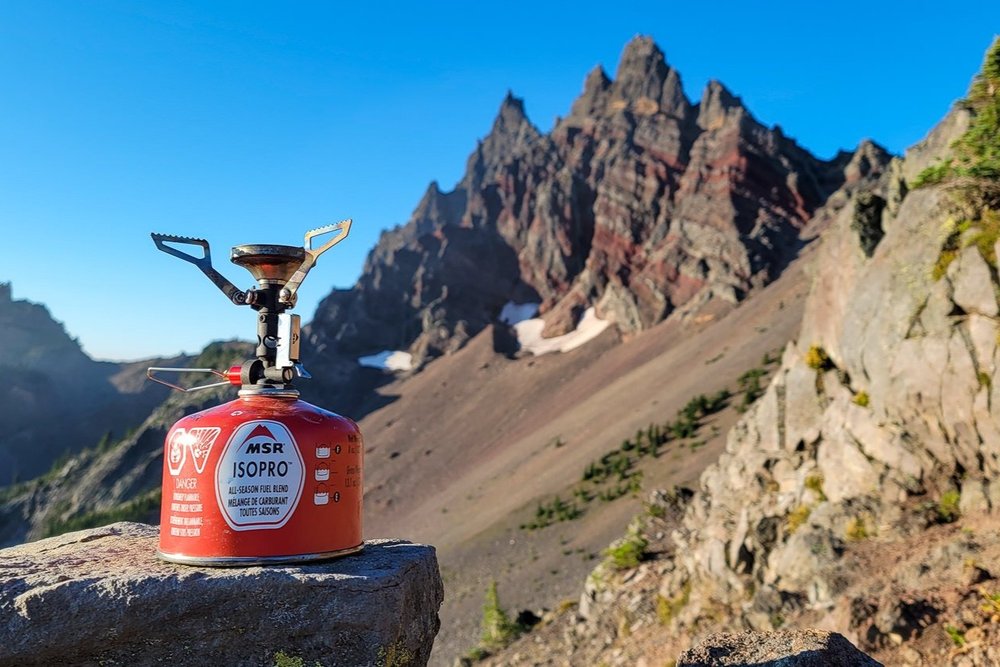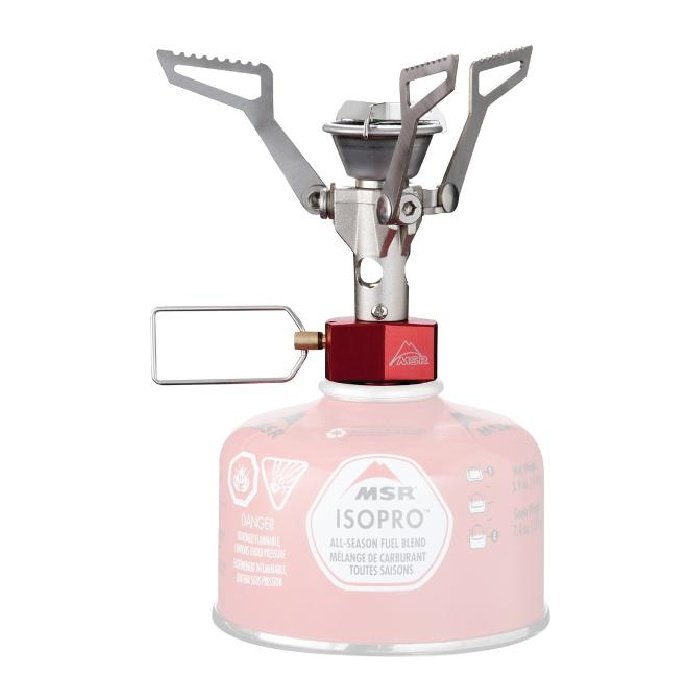 We're big fans of MSR stoves, and the Pocket Rocket 2 has been a top pick on our Best Backpacking Stoves list for years. This stove is lightweight, compact, durable, and it has great simmer control. The upgraded Pocket Rocket Deluxe has some extra features, like a push button ignitor and better performance in bad weather. Both are truly excellent backcountry stoves that come in handy kit versions as well.
---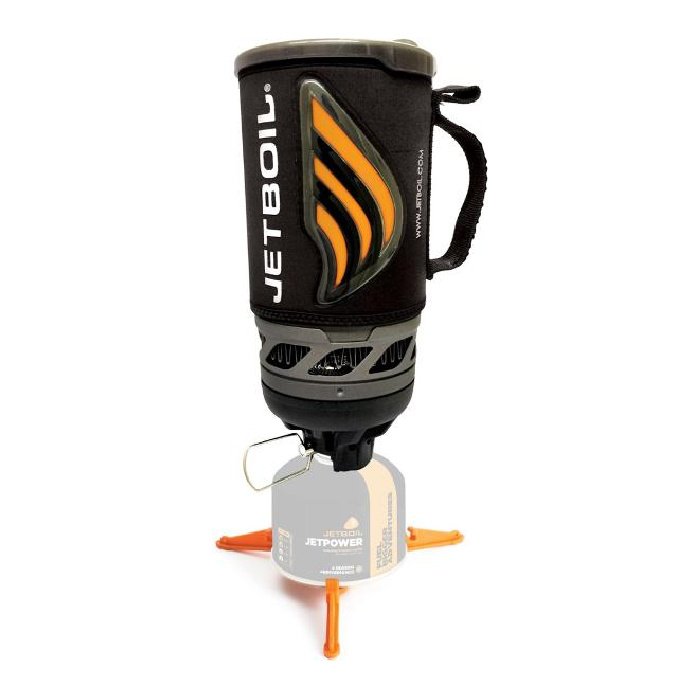 For hikers who mostly use a stove for boiling water to rehydrate freeze-dried meals, you'd be hard-pressed to find a better option than the Jetboil Flash. When it comes to boiling water quickly, the Flash lives up to its name and costs less than many other stove systems. If you're looking for the fastest and most convenient stove for backpacking, The Flash is one of the fastest and most convenient stoves for backpacking, which made it a top choice on our Best Backpacking Stove List.
---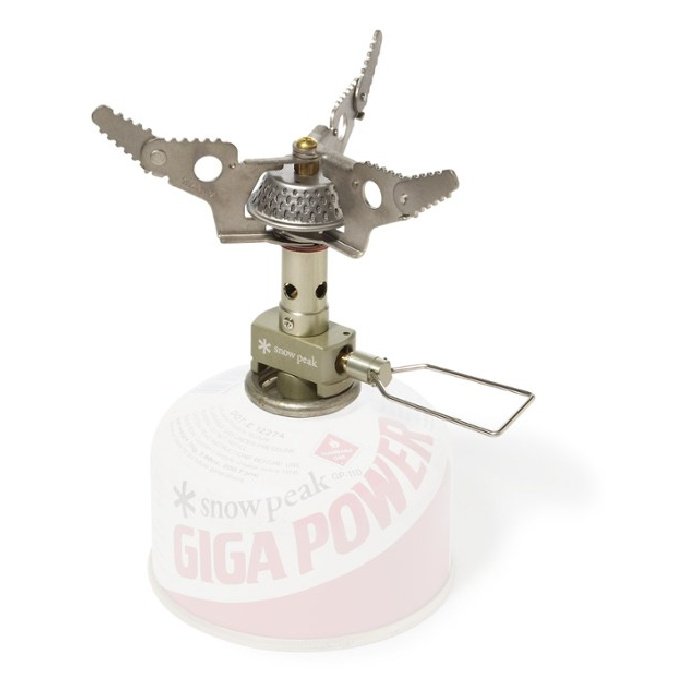 The Snow Peak LiteMax is one of the lightest backpacking stoves on the market. It's built with titanium to keep weight to an absolute minimum, and folds down small for easy storage in any cookpot. It also has good simmer control, fast boiling times, and does a decent job in the wind too. The LiteMax ranks highly on our Best Backpacking Stoves list. 
---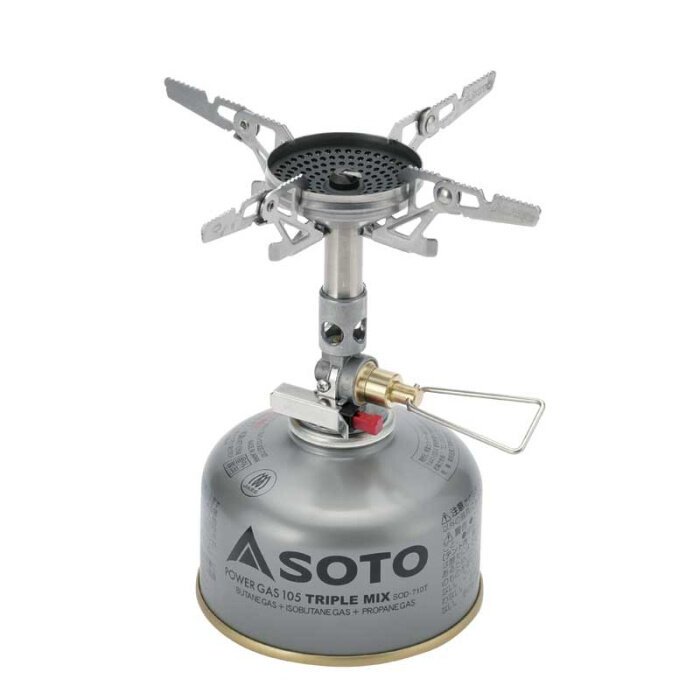 The Soto Windmaster is a highly efficient stove that, as the name would imply, performs beautifully in windy conditions. This powerful little stove boils very quickly, and is noticeably quieter than many other stoves we've used. While it's slightly bulkier than some of our other favorite canister stoves, it's still quite manageable and packs a lot of power for such a neat little package. Get more info on our Best Backpacking Stoves list.
---
The portable and convenient Eureka Ignite 2-Burner Stove is perfect for cooking some gourmet meals around the campfire. Its push button ignitor makes it easy to use, and the simmer control function allows for precise cooking. If you'll be cooking for a larger group, you may want to upgrade to the Ignite Plus for the wider burners. Check out the Ignite Plus on our Best Camping Stoves list.
---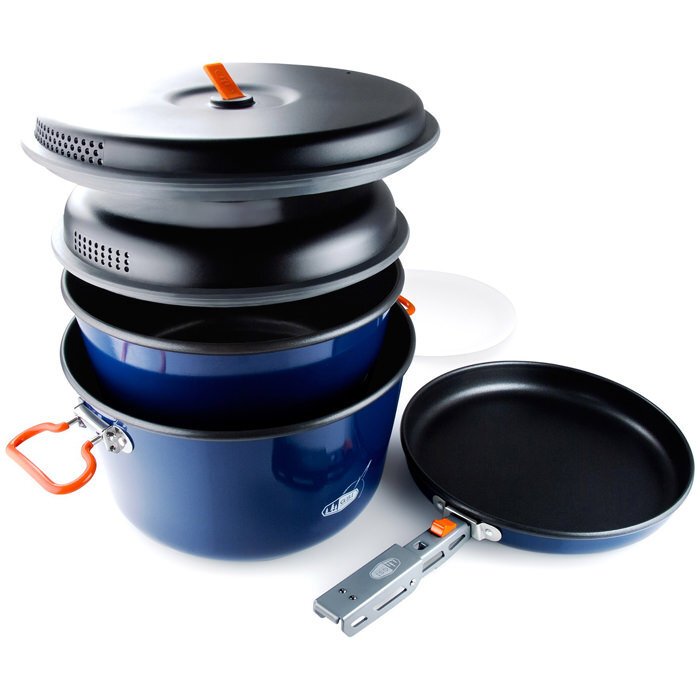 GSI products make up almost half of the recommendations on our Best Camping Cookware list, because they really nail it on design, price, and efficiency. The GSI Bugaboo Base Camper Cookset covers all your camp kitchen needs and is our favorite non-stick cookware. Their Stainless Troop Cookset is ideal for cooking for a group.  It's big enough to cook for a group and a cinch to pack. And their Pinnacle Dualist HS is a great choice for those needing something versatile enough to work for both camping and backpacking.
---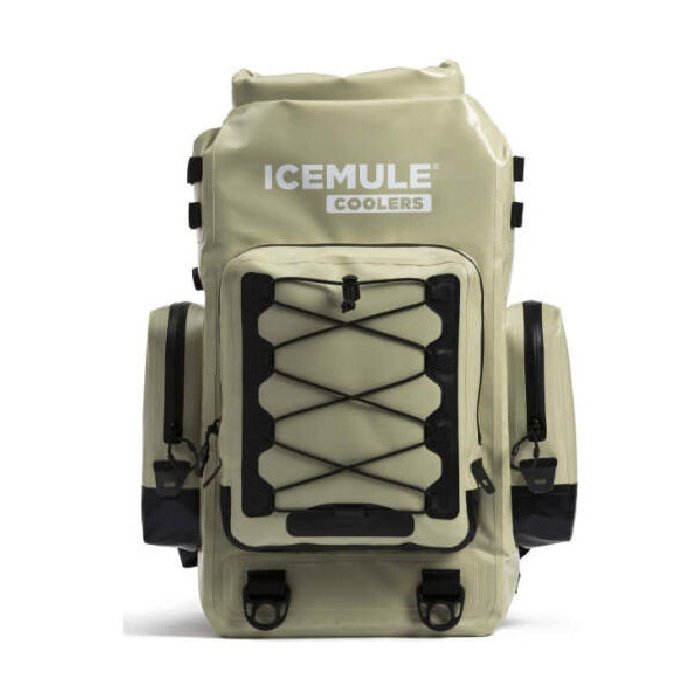 The IceMule BOSS is, well... boss for activities on the water like rafting, kayaking, fishing, or paddleboarding. It's comfortable to carry thanks to the well-padded backpack straps and hipbelt, and it retains ice for multiple days. Since the Boss is 100% waterproof and insulated with both foam and air chambers, it floats if it happens to end up in the water too. It can also be used as a dry bag for your phone, keys, wallet, or a dry change of clothes. The Boss earned the title of best waterproof backpack cooler on our list of the Best Coolers.
---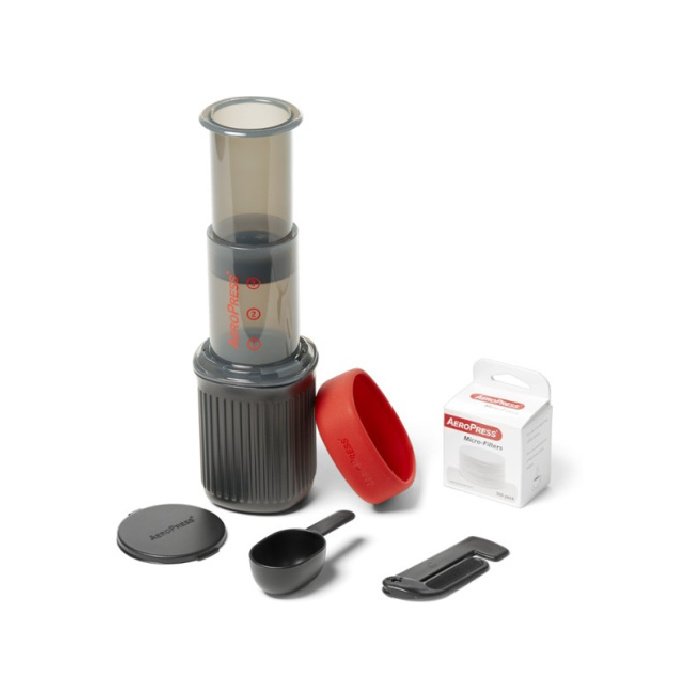 The AeroPress Go Travel Coffee Press is an awesome innovation for those who want to enjoy great coffee and espresso on the go. It allows you to have the bold taste of French press coffee anywhere.If you already have one or you know you'll use it a ton, you can also stock up on discounted filters. The AeroPress Go Travel is our top travel coffee maker overall on our list of the Best Camping Coffee Makers for brew quality, portability, and ease-of-use.
---
Other Gear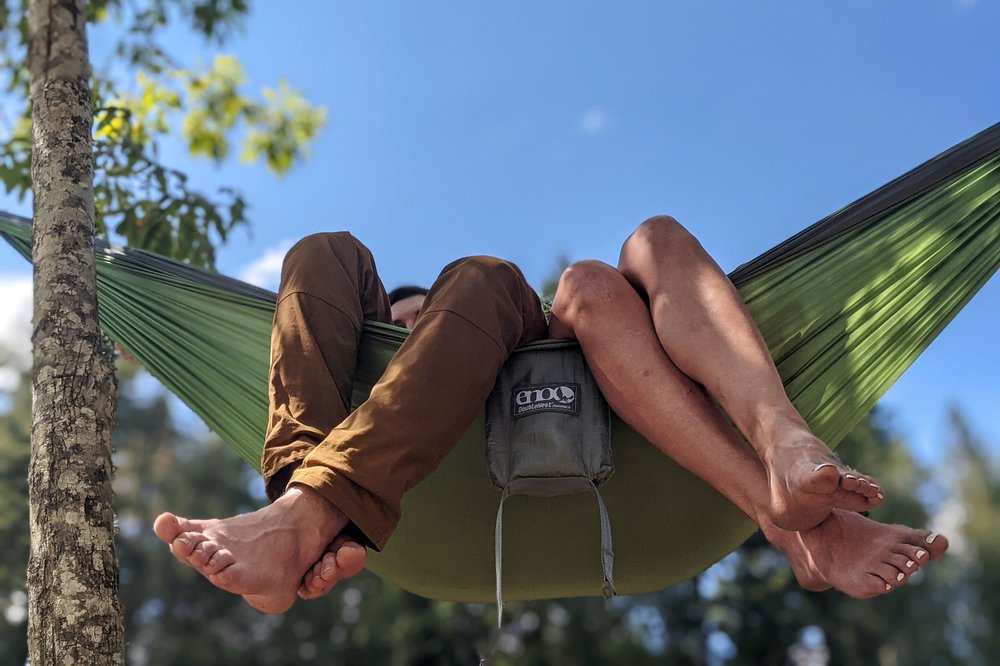 The REI Skyward from our Best Camping Chairs list is a simple, affordable chair that's great for sitting around a campfire, at the beach, or just about anywhere. It's made of a highly-breathable mesh with supportive webbing straps, which means it'll help keep you cooler and more comfortable on hot days, and it dries quickly if it gets wet in the rain. 
---
NEMO's Stargaze Recliner has been our favorite luxury camping chair for years due to its exceptional comfort and unique design. All this luxury comes with a high price tag, though, so this is a great time to get it at a deep discount! Check out how the Stargaze compares to other camp chairs on our Best Camping Chairs list.
---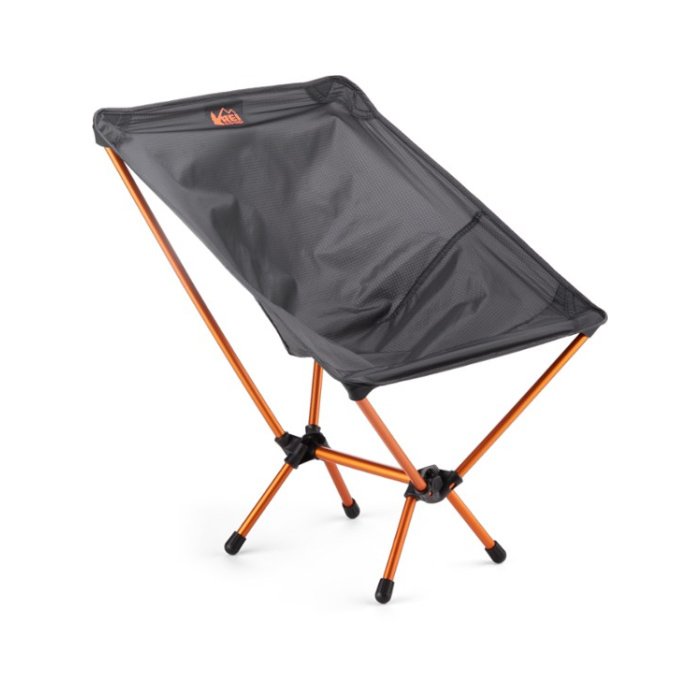 Backpacking chairs can be great for short casual trips, and of course we love using camp chairs for frontcountry camping, events, and travel. The Flexlite Air, which weighs only one pound, is comfortable, sturdy, and packs down very small, making it an excellent choice for those on the go. The Flexlite family of chairs has earned a place on both our Best Backpacking Chairs and our Best Camping Chairs lists.
---
The Doublenest Hammock is roomy and tough enough to fit two people comfortably, so it's awesome for lounging around camp with a pal. It comes in a bunch of fun color combinations for showing off your personal style, and it's incredibly easy to set up using the included carabiners. If you're hammocking solo, the SingleNest may be all you need. These hammocks can be found on our Best Hammocks list. 
---
If you're looking for a high-quality hydration pack with solid support and plenty of pockets, check out the Osprey Manta 24 (men's) and Mira 22 (women's). These packs have a large capacity for long days on the trail and a comfortable suspension system that transfers weight to your hips. The included 2.5L reservoir has a wide, leak-proof opening that zips shut with a slider. It also has a quick-disconnect tube that's really easy to access. Get more details about the Manta and Mira on our Best Hydration Packs list.
---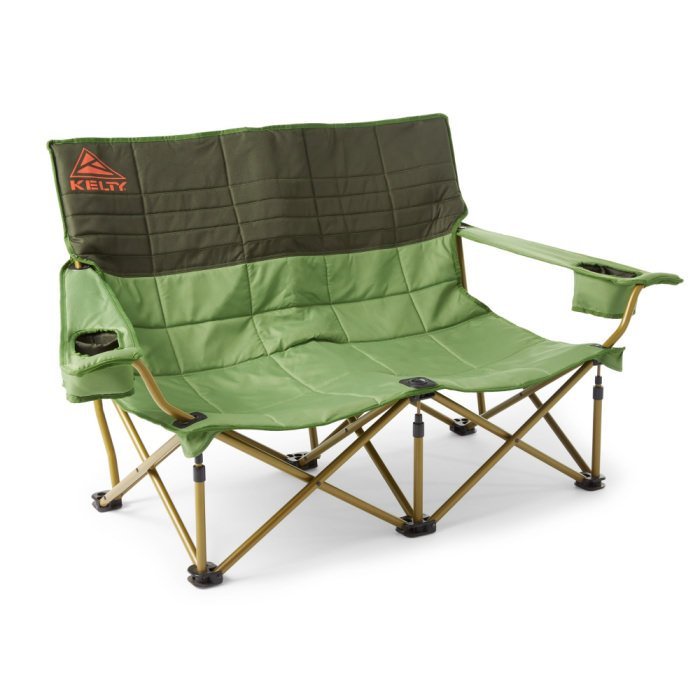 If you're looking for a chair you can share, the Kelty Low Loveseat is a practical and cozy perch for two. Its best asset is its durability, with a strong steel frame, thick quilted fabric, and quality construction. The smartly-designed carrying case wraps around the chair and buckles so it's easy to pack up. The case also serves as a load hauler for firewood/gear, or a small ground cloth to keep your feet clean and dry. The Kelty Low Loveseat is our top two-seater choice on our list of the Best Camping Chairs.
---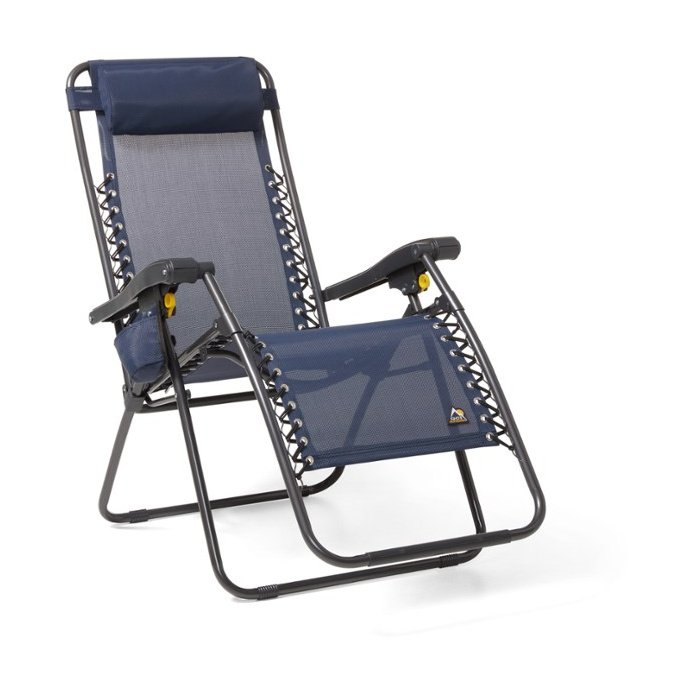 The GCI Zero Gravity is an excellent value when compared to other luxury chairs, and it's an absolute steal at 50% off. It features a high back with a headrest, a neck pillow, reclining options, and full leg support that make it really comfortable. Since it's not the most portable, the Zero Gravity is one of our favorite chairs for glamping or relaxing in the yard.
---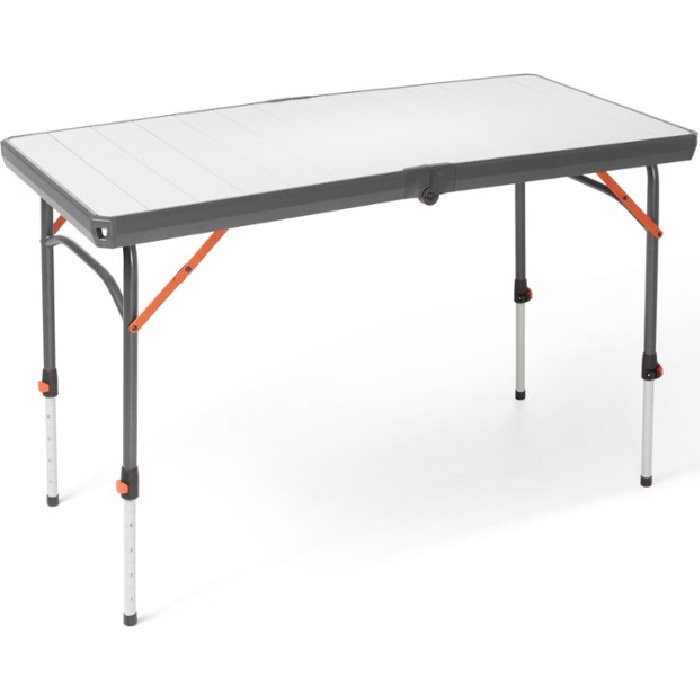 There's a lot to love about the REI Camp Prep Table: it's sturdy, stable, and has a slatted aluminum tabletop that's heat resistant and a breeze to clean. What really sets it apart, though, are the individual leg adjustments that make it easy to level no matter how uneven the ground is. The legs are controlled with lever locks (similar to those on a trekking pole), which are easier and more adjustable than push-button locks. The Camp Prep Table is our number one pick on our Best Camping Tables list. 
---
Katadyn makes some of the best water filters and purifiers on the market. One of our favorites is the ultralight and compact Katadyn BeFree, which is great for day hikes and long backcountry trips. We also love Katadyn Micropur Chlorine Dioxide Tabs because they're ridiculously light and compact, and they're more reliable than filters.
---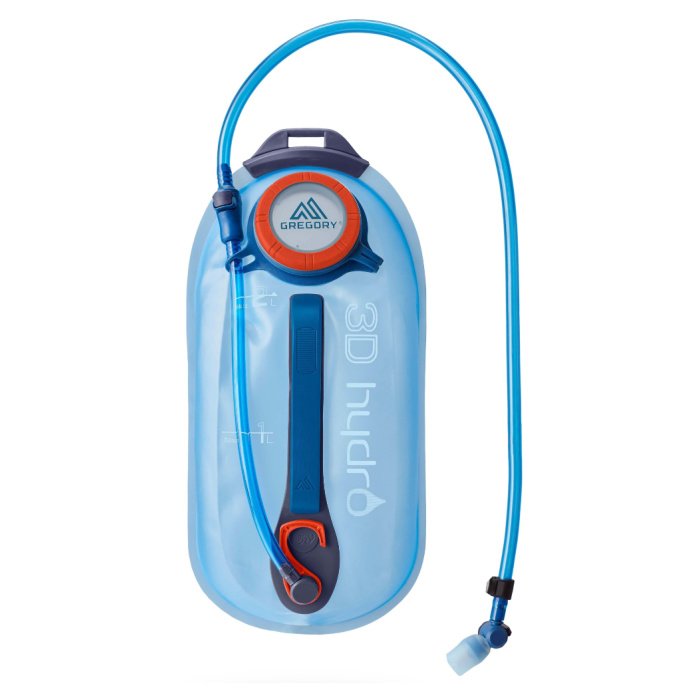 The Gregory 3D Hydro is lightweight, durable, and it has a ton of handy features. What really sets it apart is that it's soft-molded with a water bottle-like material. That means it holds its shape and stays open to dry completely between uses - greatly reducing the chances of grime accumulation. It even has a hook to hang it upside down when you're done. The easy care and durability are why the 3D Hydro has the top spot on our Best Hydration Bladders list.
---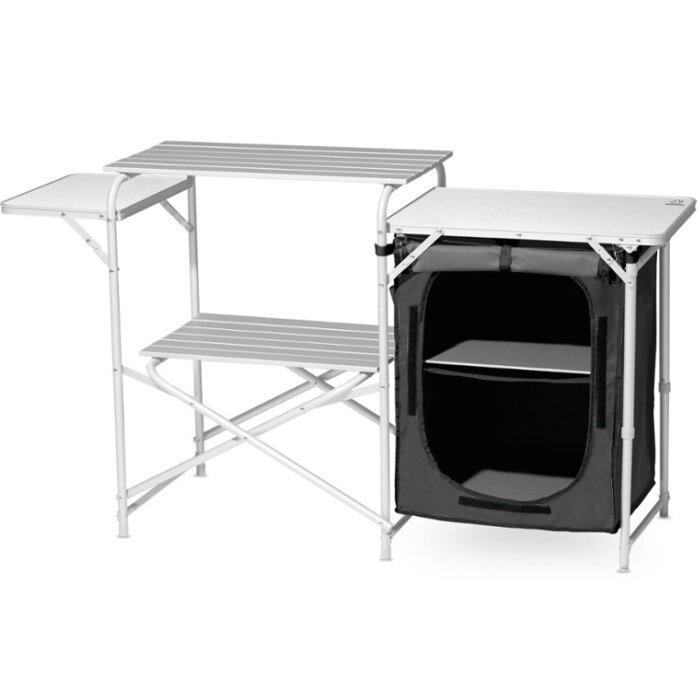 If you're the camp cook, you know how essential it is to have some counter space to work with. Enter the Mountain Summit Gear Deluxe Roll Top Kitchen. In addition to having a large surface for your two-burner stove, it also has a prep area for a cutting board and a side table to hold utensils and a drink while you cook. The shelves help keep your kitchen organized and the detachable hanging storage compartment keeps your stuff out of sight from the critters. The Roll Top Kitchen is one of our favorites from our Best Camping Tables list.
---
The season of new gear releases is upon us which means last year's colors and designs are going on clearance. If you don't mind being a little behind on the latest fashion trends and gear updates, this is the perfect time to grab some big ticket items (like footwear and tents) at a deep discount. 
In addition, from June 30th-July 4th members can save an extra $20 off a $100 REI Outlet purchase using coupon code OUT4JUL23.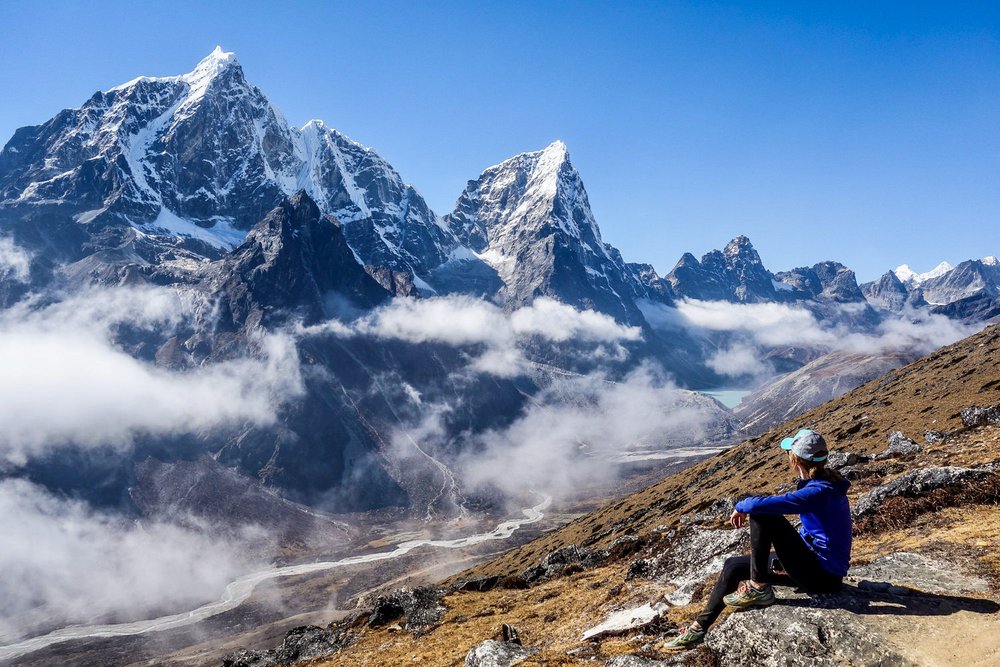 More Information
We hope this guide helps you find the perfect gear for your needs. If you have more questions or a suggestion, we'd love to hear from you! Sign up for our newsletter to stay updated on our latest posts then visit our Facebook page and Instagram to join the community conversation.
If you found this guide helpful, please share on social media and click the little heart button below to give us a digital high five! Also, be sure to check out our CleverHiker Gear Guide to see all of our top gear picks.
For more popular CleverHiker content, check out the following links:
Thanks for reading and happy trails!
---
---
Some of the links on this page are affiliate links, which means we may receive a modest commission if purchases are made through those links. This adds no cost to our readers and helps us keep our site up and running. Our reputation is our most important asset, which is why we only provide completely honest and unbiased recommendations.