A bit of needlework to keep your hands busy and add personalization to your gallery walls, craft rooms, kitchens, or even the guest room. These DIYs end up being homey pieces of decor to fit so many nooks and crannies around the house. And these 13 flower embroidery patterns are here to help inspire your spring. What's great about this kind of needlework is there are patterns for every season so you and mix and match all year long.
1. Autumn Silver Birch Tree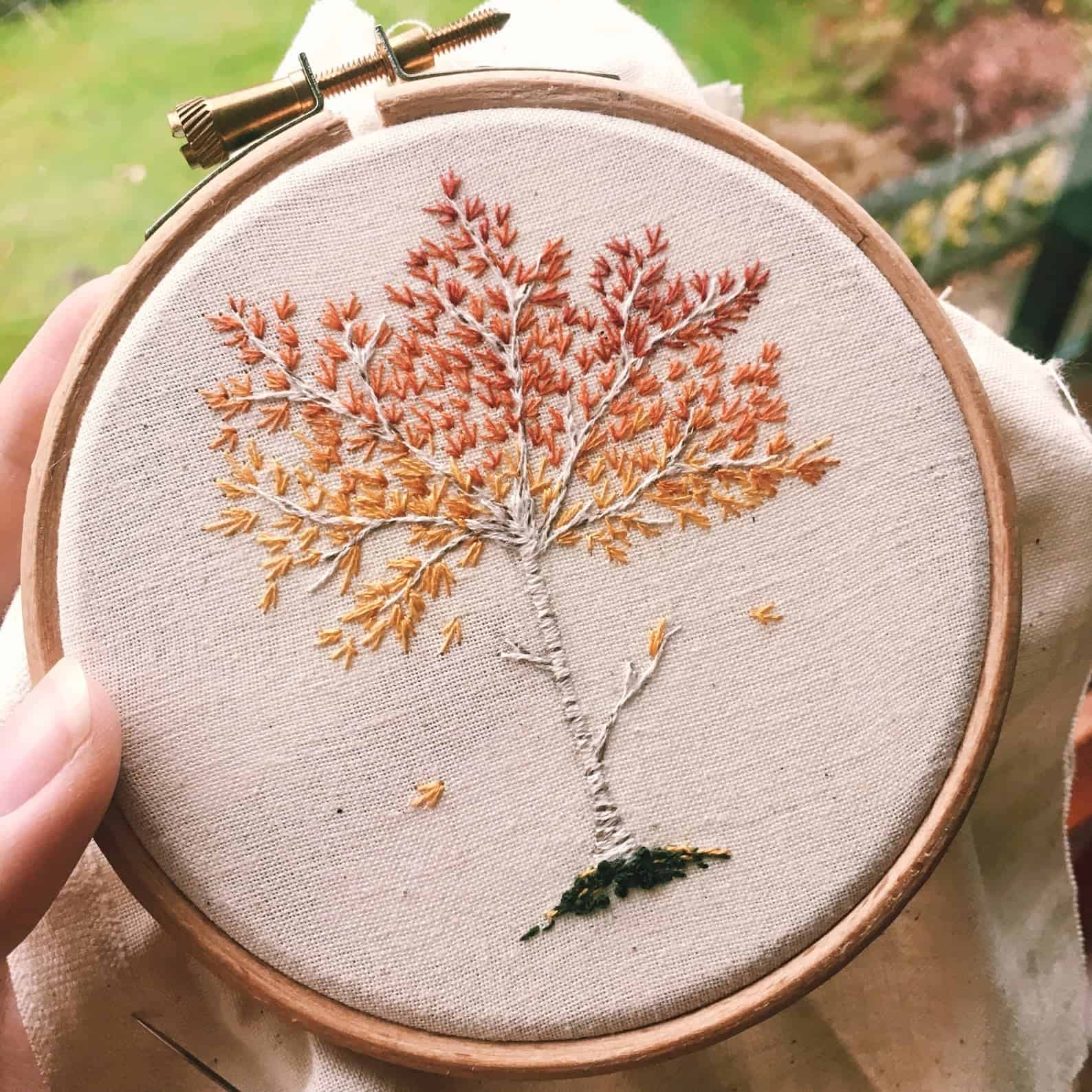 This autumn silver birch tree embroidery pattern kit can bring your full circle from spring through the fall. It's a wonderful addition to a funky gallery wall or even the little ones nursery. And you can change the colors to reflect the tones you already have in the house.
2. Garden Roses & Sunflowers
Here's another diy hand embroidery pattern and this one includes both garden roses and sunflowers. Whip this one up for your bestie's birthday or gift it to your mom for Mother's Day. These projects are the perfect DIY gift ideas. But it's also equally as fun to make for yourself and then hang in your bedroom near your makeup vanity.
3. More Garden Roses + Digital Tutorial
We're swooning over how romantic this one is. The blush, the cream, and the green thread come together so beautiful to create an elegant finished project. These hand embroidery garden roses comes with a pdf pattern and digital tutorial to get you started.
4. Folk Bees
Bring some buzzing bees into the fold with this folk bees embroidery pattern. Within this kit you'll receive the pattern, a guide with detailed photos, a 6-inch embroidery hoop, transfer paper and pen, cotton, embroidery floss, with a need and scissors. You literally get everything you need to complete the project.
5. Blue Koi Fish
Here's something a bit different! This blue koi fish can be embroidered onto a pillow – although it would look lovely on a hoop as well too. Show this one off on your covered porch, dining room, or kitchen breakfast nook.
6. Rainbow Spiral Embroidery
We've found a great project for the kiddos to try or you to get your hands dirty with. It's not only cheerful and charming, but the rainbow spiral embroidery pattern is perfect for beginners as it is fashioned for a novice in needle-working.
7. Rainbouquet Digital Pattern
This is one of the most unique designs we've seen! The rainbouquet digital pattern brings happiness to an entirely new level by combining rainbows and bouquets of flowers all in one. How gorgeous would this be in the kiddo's playroom or nursery?
8. Wildflower Bouquet Embroidery
Of course, a bohemian pattern may be more your speed. And that's where the wildflower bouquet embroidery pattern will come in handy. This too is a beginner's level pattern so keep that in mind if you've never embarked on embroidery before. Notice that this is just the pattern – you'll have to snag the supplies on your own.
9. Creative Flowers & Herbs Embroidery
We're loving this easy needlepoint pattern as well. This creative flowers & herbs embroidery is a beauty for those with a more traditional, old-age style. But it's also a great project to test your skills with – once bought, you can download the pattern instantly.
10. Spring Honey Floral Wreath
Here's another elegant beauty that we're loving. The spring honey floral wreath would top off any door, window, or center any gallery wall in your home. Choose your colors wisely – although we're loving the rich tones found in this pattern.
11. Lilac & Cherry Blossom Embroidery
Even if you've never picked up a hook before, you'll be able to complete the lilac and cherry blossom embroidery. Why? Because you get the pdf pattern and a video tutorial at your side, walking your through the process with ease and confidence.
12. Oh For F**ks Sake!
Maybe you're a bit quirkier in your style or you want to gift your sister something sassy. The oh for f**cks sake! pattern will certainly add the right amount of charm to any wall or any present you're making and wrapping up for a loved one. For those that want true personality infused in their projects, this one will do it!
13. Colorful Marble Embroidery
And finally, we have the show stopping colorful marble embroidery at our fingertips. Again, choose your own colors, but show this beauty off all year round. Even neutral tones will have a particular charm and sophistication attached.
The post 13 Flower Embroidery Patterns To Inspire Your Spring appeared first on DIYs.com.